Email Services
IT GROWS WITH YOUR BUSINESS
Public email is often limited when it comes to customizing it for your unique business needs. It's also vulnerable to risks like spam and viruses. But with Blough Tech's Email Hosting service, you can enjoy total peace of mind knowing that our team of experts are managing your email platform.
With BloughTech's Hosting Service, You Can Expect:
EASY ACCESS
Easy web and client access to your email from your desktop, laptop or smartphone.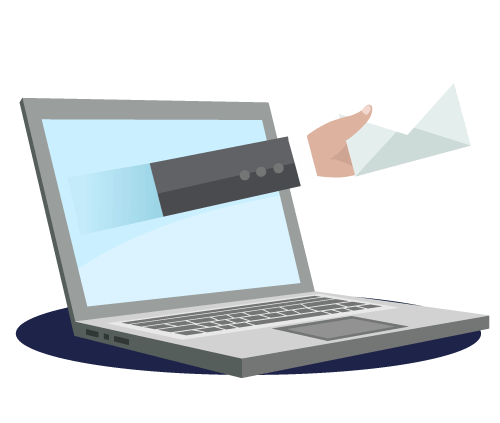 POP EMAIL
Simple POP email account hosted on our server.
EXCHANGE
Onsite or hosted exchange email system.
POWERFUL
Powerful spam filtration on all of your accounts.
SUPPORT
Exceptional support team that will contact you within the hour.
Microsoft 365
DEPENDABLE CLOUD COMPUTING SOLUTIONS
Think the power of cloud computing is out of reach for your business? Think again. No matter what the size of your organization, Microsoft Office 365 solutions from Blough Tech allow you to enjoy the benefits of dependable cloud solutions in order to increase efficiency and free up company resources – all for a price that fits your business and your budget. By combining online versions of the most powerful business tools from Microsoft, you can cost-effectively enhance communications and inspire collaboration within your office.
Microsoft Office 365 gives your business the power of cloud productivity, allowing you to save time, money and free up valued company resources. This solution combines the Office desktop suite you're already familiar with and cloud-based versions of next-generation communications and collaboration solutions, including Exchange Online, SharePoint Online and Lync Online.
ANYTIME ACCESS
Anywhere, anytime access to your email, documents, contacts, and calendars on nearly any Web-enabled device.
BUSINESS-CLASS
Business-class features that include IT-level phone support, geo-redundancy, guaranteed 99.9% uptime and disaster recovery.
MICROSOFT OFFICE
Continue working with Microsoft Office and the other programs you and your staff already count on for business productivity.
PAY-AS-YOU-GO
Pay-as-you-go pricing that brings both predictability and flexibility to your budget.
Email Archiving
STAY SAFE & COMPLIANT
With e-mail volumes increasing, IT budgets decreasing, and legal discovery requests growing exponentially, it's no wonder that organizations are turning to cloud services to solve their email archiving challenges. 
Purpose-built to leverage the scale and performance of the cloud, Sonian provided by Blough Tech delivers improved user access at an inexpensive price due to its ability to leverage new cloud technologies, storage architectures, and the most powerful search on the cloud. With over 10,000 highly satisfied customers, Sonian provided by Blough Tech can make your move to the cloud effortless
DATA PRESERVATION
At a time when so much business is conducted through email, securing and retaining every conversation, contract and commitment can make all the difference.
EXPENSE REDUCTION
Looking for an end-to-end UC solution that offers enterprise-class features your business can afford? Switchvox is the best value for your business phone system – with the flexibility and power you need from a prem-based IP PBX.
COMPLIANCE
As the laws regulating data continually expand, nearly every business is required to maintain a complete and easy-to-access archive of electronically stored information.
PROTECTION
Using fast and accurate search to scour millions of documents in seconds, businesses are bringing focus to discovery requests, speeding audit response and powering internal investigations. Chat 5x5 Blog Free IT Assessment