Business Consulting
USING TECHNOLOGY AS A TOOL TO SOLVE BUSINESS CHALLENGES
When it comes to the technology you need to run your business, it's hard to make sense of all the options.  Blough Tech, Inc. does more than just sell technology – we combine IT and small business consulting expertise to develop technology solutions to meet your real business challenges.  Blough Tech becomes a virtual extension of our clients' businesses, helping them develop and maintain a technology strategy that aligns with their business needs and goals.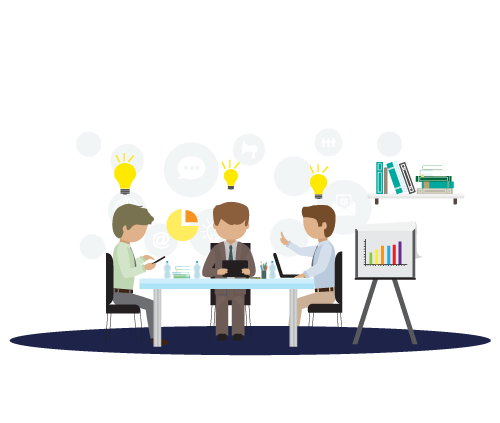 VENDORS
Vendor-agnostic solutions – based on known technology standards and best practices.
BUSINESS IQ
Technology and business acumen – a unique mix often missing from other providers.
FULL I.T.
Full I.T. services – including planning, procurement, implementation, and ongoing management.
MOBILE CALLS
Can be taken in other locations, via laptop or mobile phone.
Virtualization
IMPROVE SERVER PERFORMANCE & UTILIZATION
For small businesses with too many underutilized servers or escalating IT costs, virtualization offers relief by fundamentally changing the way IT resources are managed and deployed.
Virtualization provides unmatched flexibility, performance, and utilization by allowing you to move server workloads from one virtual workspace to the next, maximizing server resources on the fly based on your business needs.
PERFORMANCE
Fast provisioning and dynamic load balancing – for improved application performance.
OPTIMIZATION
Consolidated servers with optimized workloads – increase utilization to accomplish more with fewer servers.
RECOVERY
Simplified disaster recovery – virtualization's single-system image makes recovery painless.
REDUCED ENERGY
Reduced energy needs – fewer servers means lower electricity and cooling bills and a smaller carbon footprint
Hardware as a Service
AFFORDABLE HARDWARE & OPERATING SYSTEMS
Hardware as a Service programs from Blough Tech is an effective way to ease your frustrations from the regular need for new equipment and operating systems and its effect on your budget.
With a flat monthly fee for equipment and warranty service, we eliminate large capital outlays and allow IT equipment costs and related maintenance services to qualify as operating expenses, providing you with significant tax advantages.
WARRANY SERVICES:
Desktops
Laptops
Routers
Switches
Firewalls
WE PROVIDE:
Hardware
Operating Systems
Software
Servers
On Demand Services
YOUR OWN I.T. DEPARTMENT- HOURLY
As a small business, you may not need a lot of IT support. But when you do need it, you need it NOW. Unfortunately, the last minute is not the best time to find a quality IT service provider. Get ahead of the game by lining up your technology A-team before disaster strikes.

According to a You Gov survey, 42% of small business owners reported that "technology not working" is their number one anxiety.
FLEXIBLE
Pay only for what you need, as you need it.
SUPPORT
A complete IT department at your disposal – experienced support whenever you need it
FAST
Fast response times – get back to business as quickly as possible. Chat 5x5 Blog Free IT Assessment